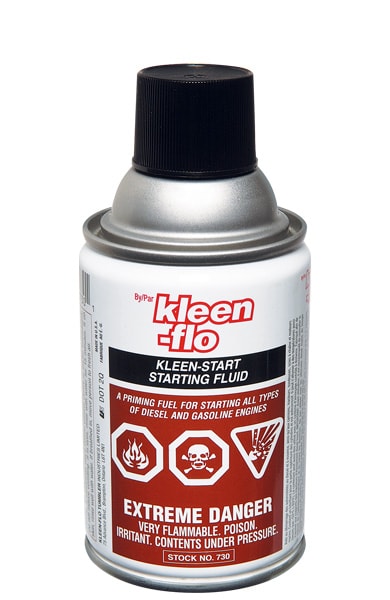 For the very best selection of engine starting fluids to keep your fleet running, trust Inventory Express. We offer a comprehensive selection of starting fluids for bulk delivery in Southwestern Ontario from the industry's most trusted brands. 
What Are Engine Starting Fluids?
Engine starting fluid is a purposely flammable liquid used inside engines to help them launch into action. Engine starting fluid is especially common in places where there is cold weather, such as Ontario winters, and with engines that may sometimes be troublesome to start.  
Benefits of Starting Fluids
Starting fluids lengthen the lifespan of vehicles that otherwise would need replacement parts. For example, an older truck might need replacing or costly work done to the engine but starting fluid can mean that the engine will get a much-needed boost, extending its lifespan. A final benefit to starting fluid is that it reduces engine wear and tear from trying to start an engine unsuccessfully. 
What Industries Use Starting Fluids?
Engine starting fluid is versatile and can help start the engines of vehicles and machinery across many industries, most commonly automotive, construction, agriculture, and marine sectors. Starting fluids can be used on a range of vehicles and machines such as commercial vehicles, lawnmowers, snowblowers, motorcycles and more. 
Inventory Express Offers Bulk Kleen-Flo Starting Fluids
Inventory Express is a top supplier of oil and lubricants, and we supply our customers with only the highest-quality starting fluid available in Canada, such as Kleen-Flo starting fluids. Kleen-Flo will spray at sub-zero temperatures, and the priming fluid will start many gas and diesel engines. Effective at freezing temperatures down to -53 Celsius, Kleen-Flo starting fluid includes an upper cylinder lubricant to reduce engine wear. 
Inventory Express Supplies Bulk Oils and Lubricants
Inventory Express is proud to deliver bulk oils and lubricants to businesses throughout Southwestern Ontario. As industry leaders, Inventory Express delivers the best oils and lubricants for specialized industries. Rest assured, knowing your business is fully stocked with essential starting fluids and lubrication products thanks to Inventory Express. Book your bulk delivery today.  
Featured Suppliers