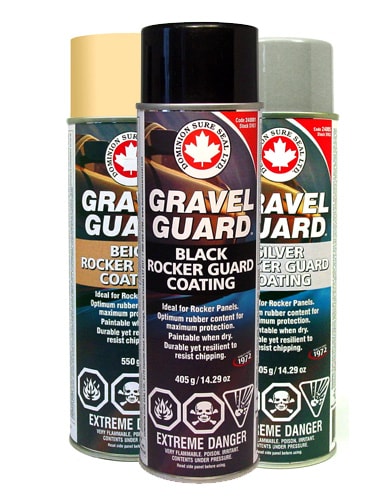 Rocker coating, or gravel guard, is an efficient product in preventing damage to a vehicle's rocker. For commercial and industrial vehicles, gravel guard rocker coating can extend the life of vehicle parts by offering protection against chips and corrosion. That's why we are proud to offer only the very best selection of rocker panel coating spray to our customers throughout Southwestern Ontario. 
What Is Gravel Guard Used For?
Gravel guard is a rocker coating that is used to prevent gravel, snow, and other irritants from damaging the area between a vehicle's wheel wells. A rocker is a crucial component that can commonly acquire dents and dings due to its proximity to the ground. Using rocker coating offers maximum protection from the wear and chips experienced while driving in various conditions. 
Can You Paint Over Gravel Guard?
Gravel guard is in fact paintable, however, it's best to wait a minimum of 45 minutes before applying paint or lacquer to ensure proper adhesion. 
How Long Does

It

Take for

Gravel Guard

to Dry?

 
Gravel guard rocker panel coating can take as little as 45 minutes for the guard to dry. It's fast drying properties ensure you can proceed with your next maintenance steps or driving without a lengthy drying time.   
What Industries Can Benefit from Gravel Guard?
Industries including automotive, heavy-duty, farming, construction, and industrial, can benefit from the use of gravel guard for their vehicles and machinery. Vehicles in these industries need extended lifespans to save money. So, the use of rocker paint is standard practice as these industries' vehicles take plenty of damage from industrial use. 
Dominion Sure Seal Gravel Guard
Inventory Express is a Dominion Sure Seal supplier. Dominion Sure Seal has developed their products for over 40 years and has become the industry standard for delivering effective and easy-to-use gravel guard.  
Get Gravel Guard Delivered from Inventory Express
For the very best selection of bulk oil and lubricants, trust the team at Inventory Express. To learn more about our extensive selection of Gravel Guard solutions, contact our reliable team and book your bulk oil delivery today.  
*Image courtesy of Dominion Sure Seal 
Featured Suppliers