Inventory Express is proud to carry the industry-leadings cleaning and industrial solvent, Varsol. Varsol is a trademarked product of Imperial Oil under Recochem Inc.
Varsol is a widely used and recognized paint thinner solution that is used by professionals and by homeowners alike. It is a petroleum distillate that contains mineral spirits to remove greases, thins out paints and varnishes as well as polyurethanes. It is considered safe to use indoors thanks to its low-odour properties.  It is used in both residential and commercial settings as an industrial solvent and cleaning and degreasing solutions.
Uses for Varsol
Varsol has many residential and commercial uses, including:
Cleaning and degreasing industrial concrete flooring
Degreasing tools and automotive parts, particularly tools and parts used for lubrication projects and tasks.
Thinning oil-based paints and polyurethanes
Removing wax, greases and tars from workplace flooring and surfaces
Industrial Cleaning with Varsol
Varsol is also widely used in industrial and automotive work settings as an industrial cleaning solution. Used to remove heavy-duty waxes and greases from commercial and industrial workspaces such as concrete, tile and porcelain flooring.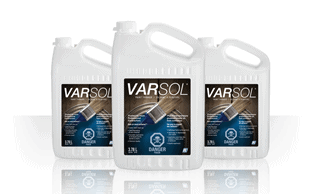 Varsol Paint Thinner
One of the more widely recognized products from Varsol, is their industry-leading paint thinner. This heavy-duty paint thinning solution is used for oil-based paints and polyurethane's to easily remove paints and varnishes from unwanted surfaces and from application tools and brushes.
Bulk Varsol Products in Southwestern Ontario, Midwestern Ontario and Niagara
Inventory Express is proud to provide business in Southwestern Ontario, Midwestern Ontario and Niagara with bulk oil and lubrication products and accessories – including industry-trusted products from Varsol.
Inventory Express offers bulk quantities and packaging options to suit business needs and provides fast and reliable delivery of their bulk lubricant products. For more information or to schedule a delivery, contact the team at Inventory Express today.